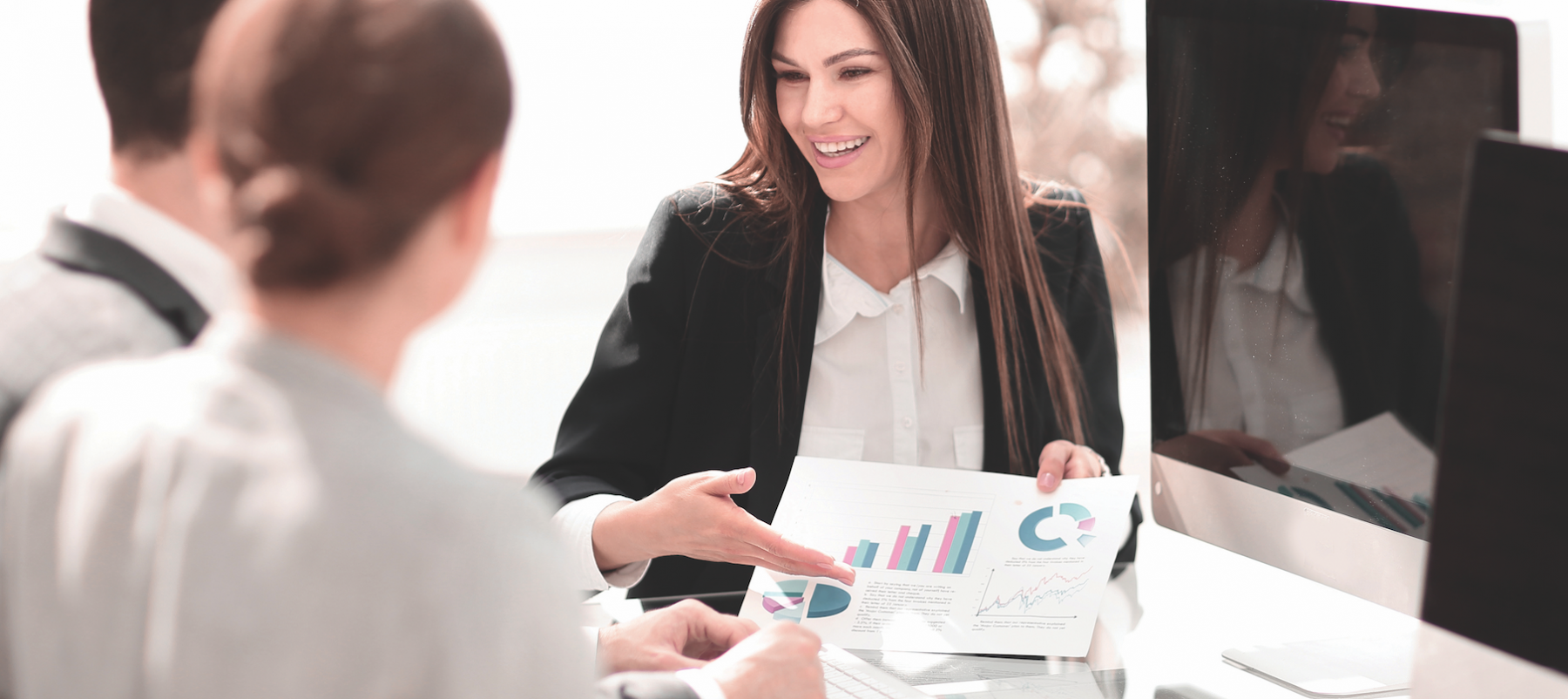 The Stellar Growth Approach
The three pillars for defining your financial growth strategy
Program Commitments are

not

a Growth Strategy
Stellar has had the opportunity of working with thousands of community banking institutions over the past 20 years. After all these years, we've noticed first-hand the specific attributes "high-performance" community banking institutions consistently have. We take pride in researching which sales and marketing strategies work,
for both our clients and competitors. By doing so, we have developed solutions, that when combined, are extremely powerful in accelerating the growth of our clients' retail consumer base.
Prior to showcasing what the high-performance institutions do to achieve that status, let's explore what the less successful institutions fail to do. In almost every case, they simply fail to develop and pursue a strategy for growth. The implementation of programs that require a pre-determined contract period is simply not a strategy. When we ask about a company's growth strategy, we constantly hear "Well, we've made a three-year commitment to this program." That's great for the vendor, but does it support an ongoing strategy for growth? In many cases it does not.
A Sustainable Growth Strategy is Formulated by Proven Solutions
As a company, we made the decision from day one, not to require long-term contracts. Instead, we work with our clients to put in place practices that are not defined by time, but instead are supportive of sustainable growth regardless of specific strategic initiatives.
We strongly believe the strategy we've built through collaboration with our thousands of clients over time is a basic foundation for growth that can and should be applied by every community institution. We refer to these three basic pillars of growth as The Stellar Growth Approach.
Growing Your Foundation and Seizing an Overlooked Opportunity
So, let's discuss what's fundamental to every banking institution: loans and deposits. These two products are the foundation of any institution. Now, let's discuss what we believe is the most overlooked opportunity in community banking today. The ability to expand the relationship and profitability of each and every consumer that banks with you. More precisely, let's focus on auto loan account holders that are completely dismissed from the conversation when it comes to expanding the depth of the relationship with these consumers. There are over $1 trillion worth of these loans in the U.S. today. How's that for a market that is virtually untapped!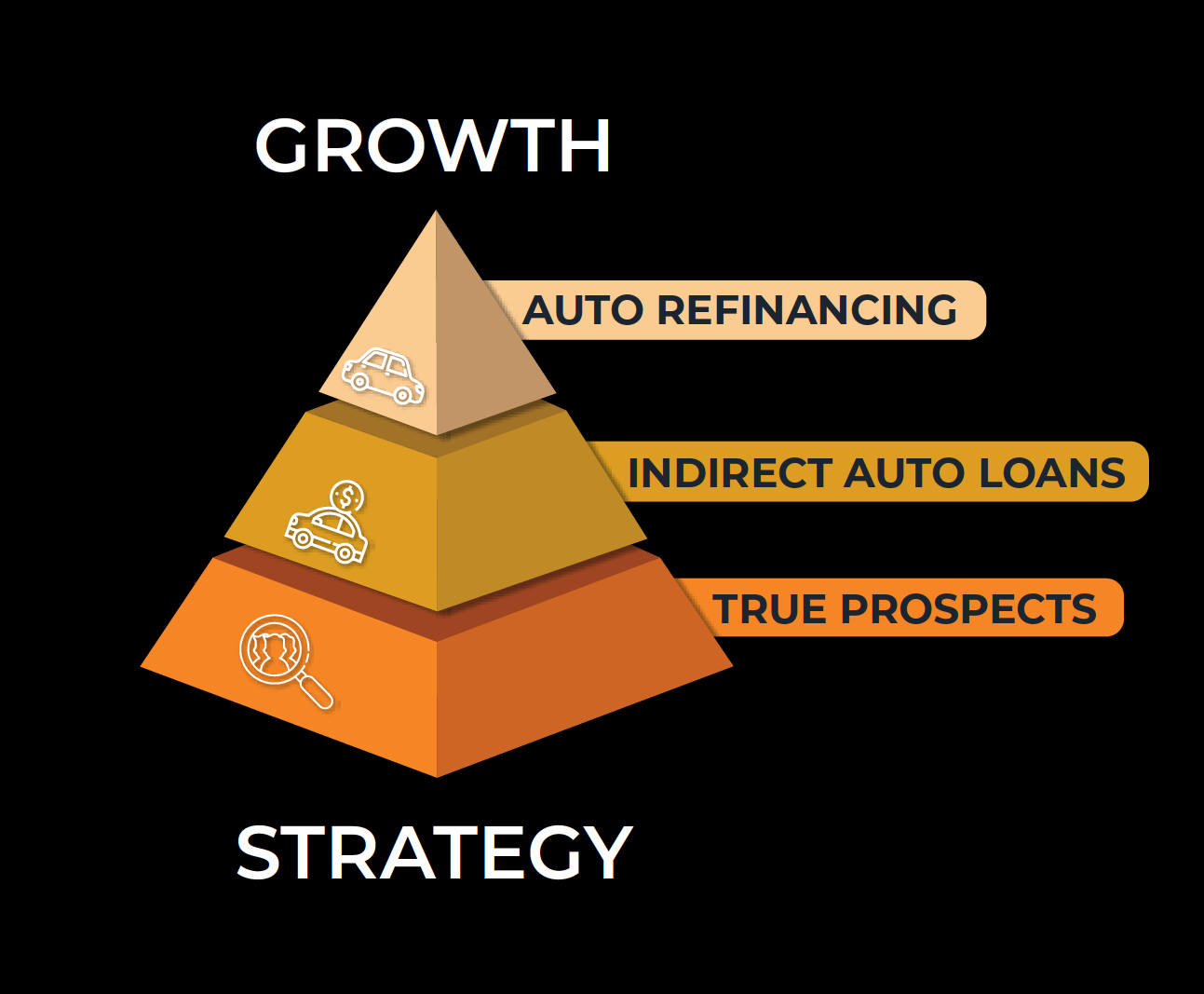 The Growth Strategy Pyramid
Credit unions (more so than banks) rely on auto loans to grow their assets and overall loan portfolios.
Prioritizing marketing efforts, along with allocating budget funds in order of highest return on investment is key.
The Stellar Growth Approach incorporates all this in an easy to understand, execution process.
The Three Areas of Opportunity
The top priority in our experience is Auto Loan Refinancing. Where else does a consumer at the start of a relationship have such a great positive experience? We don't even refer to these transactions as a sale. We provide a service to these consumers, who have until the point in which we talk with them, had no idea they were grossly overpaying on the auto payment. This first exposure to your institution is extremely positive and lends itself to secure a long-term relationship. In fact, on average 30% of these new customers immediately add a checking account and opt for autopay. With over $30 billion in loans that need to be refinanced nationally, there's always a substantial market available for any institution.
The second most logical and lucrative consumer group are those consumers that already have a relationship with you through an Indirect Auto Loan

. We consistently ask our clients: Why do you focus on true prospects with no existing relationship, while practically ignoring this group that already does business with you? Most common reply: We tried that and it didn't work. I can tell you from experience that if done correctly with a data-driven approach, it does work. Having said that, not all indirect auto loan consumers are good prospects for strengthening the relationship. That's where the data comes into play.

The third group of consumers are those True Prospects

in your market. We estimate that in most markets an average of 20% of consumers are prime to change banking institutions on an annual basis. They change jobs, move, become disgruntled with their current banking relationship or find themselves in the middle of a merger or acquisition with another institution. The latter situation is becoming more prevalent in recent years. A question for your institution:

Are you on the shopping 

list for these consumers? Another question: How do you decide which consumers are more inclined to make the move to your institution?
SUCCESS STORY
Peoples Bank Of East Tennessee
Madisonville, TN
"We have been very pleased with our partnership with Stellar Strategic for the last three years.
We have been able to utilize their Deposit Account Acquisition product to grow our core deposits.
The marketing material has been very effective in our markets. We are ecstatic to have a marketing partner that uses data analytics to validate our marketing decisions.
We love seeing our marketing budget converted into new customers!"
— Dustin Atkins
Senior Vice President – COO/CIO
Peoples Bank of East Tennessee

Careful Planning is Necessary for Your Growth Strategy
Granted, combining all three approaches may not be the best approach for every institution. If not, consider which would be a good addition to what you already have in place as part of your growth strategy. Doing nothing is not an option. Today's banking climate is more competitive than ever. Start with a strategy, one that is sustainable over time, and don't make the mistake of thinking that adding more technology or a new fad program will solve all your growth problems. Take what your market and current client base presents to you as opportunities and build your strategy around it.
Over the past 20 years, we have proven that with the right strategy, tremendous growth is possible. Sitting idly by will not garner your institution any significant portion of this available business.
---
Craig Simmers is the Founder of Stellar Strategic Group.
Contact him at craig.simmers@thestellarfinancialgroup.com or 410-990-0172.
More Articles from this Edition of Stellar Insights: