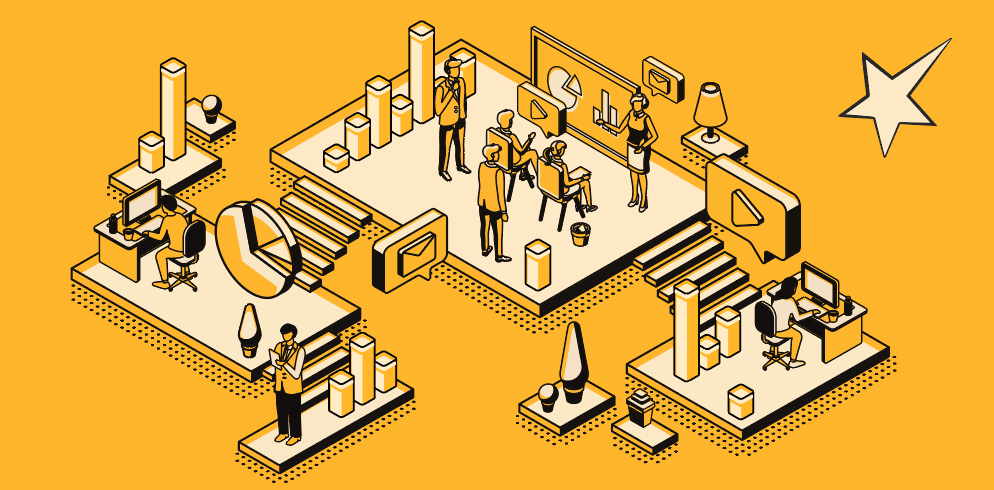 Dedication Leads to Success
Over the past 20 years of working with community banks and credit unions, we have witnessed first-hand how high-performing institutions strategize to improve their marketing efforts. As simple as it sounds, the number one trait all these institutions have is a persistency and commitment to executing long-term initiatives that produce results.
Another trait we see in high-performing institutions is the dedication to make decisions based on hard data. There are several factors that we see over and over again that drive effective and successful long-term strategic marketing plans. They are as follows:
Where can you grow geographically? Not all branches or areas within your branch footprint have the same growth potential. Analyzing growth and trend potential is key.
Are there factors related to account attrition that impact your ability to grow?
What is the profitability of each account offered? How can you establish long-term relationships? Direct vs. indirect auto loans is a prime example when it comes to establishing long-term relationships. Incentivizing sticky checking account products (think direct deposit, e-statements, mobile/online banking) creates a stronger relationship from the beginning.
Can every marketing initiative be graded on its effectiveness related to your bottom line? This is important. As much as an institution "thinks" its marketing is working, it comes down to proving that it does actually work.
Can you deal with the natural rise and fall of your marketing efforts while staying dedicated to a long-term plan? It's not always easy but remaining dedicated and persistent will help you achieve your goals. Being adaptable to interest rate changes or consumer spending habits should be a consideration in the short-term. But, don't completely derail from your long-term goals to do so.
The Downside of Indecisiveness and Built-In Disruption
Institutions that struggle with retail growth typically don't have a clear direction or strategic marketing plan. They tend to make decisions "on the fly" as opposed to being dedicated to a planned approach. The most consistent phrase we hear from struggling institutions is "I know it's working but we want to try something different."
On another note, there are a few companies that require long-term and lengthy contracts to grow your account base. In some cases, your institution is required to change your existing checking account line-up. Our company does not require multi-year contracts or drastic changes to your checking products. There are two reasons for this:
First and foremost, the key driver to response from our experience is who and where you target based on several data points versus unique product features. We have seen clients that were forced to change their product mix twice in a three year period to accommodate a change to a unique checking product feature. We refer to this as "built-in disruption", which never has positive long-term growth benefits. We focus on the key data points that drive growth, not individual product features.  
Second, by not requiring multi-year contracts we don't force clients to think in a fixed period of time. Thinking and planning long-term is a clear advantage for any business that wants to experience sustained long-term growth, but so is having flexibility to adapt. In the event that a vendor requires a multi-year contract, think beyond the term of the proposed contract to ensure you don't create disruption for your customer base.  This is especially true if you are using a vendor's proprietary checking product.
The bottom line to growing your retail business is to make a long-term strategy based on hard data, stay committed to it, and be confident in your plan. You'll have an advantage over most institutions that struggle with retail growth. Community banks and credit unions that have a dedicated and persistent approach will always outperform those that do not. In the upcoming weeks we will highlight some of our clients that have a dedicated retail growth strategy and share highlights of their results.
Midwest Credit Union
$1.2 Billion Assets, 15 Branches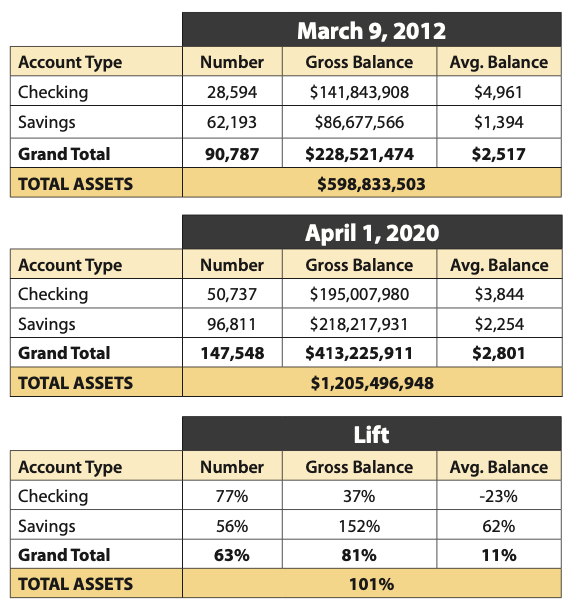 Remarks: 7.3% annual checking account growth (assuming constant compound growth)
SouthEast Bank
$804,000 Assets, 7 Branches