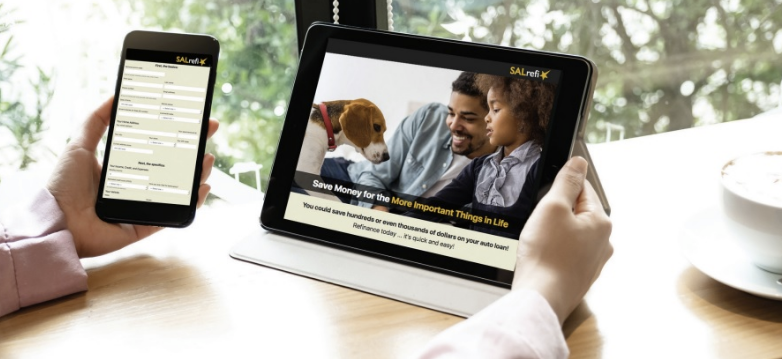 SALrefi.com is an innovative, consumer-facing web platform.
This free online service helps consumers find the best auto refinance option in their market.
We're off and running with our new online auto-refi lead source – SALrefi.com. We initially wondered how well our site would fare going up against the big banks and large lead generation companies. The results are in and it's a resounding QUITE WELL!
Our initial goal was to provide our lending partners with a few additional direct auto loans every month, but we definitely underestimated the power of the internet (and we're not complaining). Using our internal data from years of experience in the refi market, we are beating and/or competing head to head with the dominant players in the online space.
SALrefi allows us to not only direct market to people who are overpaying on their auto loan, but more importantly tap into consumers already searching online for ways to reduce their monthly payments. The market of consumers searching online is massive!
Stellar Auto Loans
2018 Statistics At-A-Glance:
Average interest savings per funded loan = 8.26%
Average refi balance = $23,913

Average 1st year interest income
per funded loan = $1,698
This is encouraging news and bodes well for our lending partners who directly benefit from business generated via SALrefi.com. In reality, the ultimate winners will be the consumers who are able to save every month on their auto loan. Not to mention, our approach gives our lending partners tools to generate primary banking relationships in addition to new funded loans…which can be a more profitable win for the institution than the loan itself.
Unlike most online lead sources, we take the time to follow-up with each lead to determine the best lender in that consumer's market as well as verify important information if it is missing on their prequalification app. This means less hassle for our lending partners and less hassle for the consumer. If you have experienced a flood of phone calls or emails after submission of online apps, you know what we mean by "hassle".
On the lender side, if your institution has utilized online sources for leads, you have probably experienced the difference between quantity versus quality leads. We strive to supply the latter. We are nowhere near maximizing this opportunity nationally. We have an exclusive, but limited, opportunity for competitive lending partners in many parts of the country.
If you would like to learn how SALrefi can help your financial institution turbo-charge direct auto lending, contact us today. And please, check us out at SALrefi.com. We would love your feedback!
Craig Simmers
Founder of Stellar Strategic Group
410-990-0172
craig.simmers@thestellarfinancialgroup.com