the stellar indirect tool kit℠
Indirect Auto Loans have Created a Direct Opportunity.
---
The Stellar Indirect Tool Kit℠ is designed to transform indirect auto loans into key drivers of PFI relationships. In short, let's replace what has become a wholesale product play and convert these loans into key drivers of long-term relationships.
Step One:  Analysis
Map your indirect landscape into three priority groups:
•

  Outliers   •  Proximity   •  Franchise
By
Examining indirect households

Overlaying key PFI trends and attrition analytics

Calculating potential ROIs

Determining marketing frequency
Step Two: Retention
E
xecute targeted marketing to retain and convert your indirect relationships with:
Cost-effective variable-frequency marketing

Persona-based creative designs

Realtime in-market triggered messaging
Analysis Overview
---
Analysis is a key component of The Stellar Indirect Toolkit℠ – it's what allows us to help you get the most from your marketing funding to maximize the transformation of indirect loans into PFI relationships. To facilitate this, Stellar uses your current and historical institution-wide account data to segment your existing indirect relationships into three categories: Outliers, Proximity, and Franchise. Our high-level analytics process is accompanied with maps of each segment in your particular market.
1. Outliers
Depending on your specific market and branch footprint (both geographically and in terms of highway infrastructure), a number of indirect relationships will be designated as "Outliers". These loans are unlikely to transition into PFI relationships, and are earmarked for a only small number of cost-effective marketing touches over their lifetimes.
2. Proximity
The second category designated are the "Proximity" relationships, and are those that fall near enough your branches to have a meaningful in-branch experience if desired (and when required). Given the convenience of your branch locations to these customers/members, a more-frequent marketing plan is employed.
3. Franchise
The final – and key – category are those of the "Franchise". Indirect loan holders are elevated to this category based on a variety of historical trends seen across all account types. Not least of which is historical checking account activity – both incidence and duration. Stellar examines market penetration, historical account opening trends, and attrition-weighted account longevity to determine which subset of geographically-relevant indirect loan holders will tend to transition into full PFI relationships. An aggressive series of marketing campaigns is employed for this category
Marketing Components
---
After completing the analysis portion of The Indirect Tool Kit, you will have the necessary information to customize your marketing efforts. We offer the marketing component of the tool kit in multiple different formats because we understand internal capabilities differ from institution to institution.
You'll be able to decide how much of the execution you take on internally or allow us to execute on a turnkey basis. Your assigned production representative and data analyst are with you every step of the way, regardless of your marketing decisions.
Postcards
 Welcome Letter
The welcome letter serves multiple purposes for new auto loan members that may be doing business with your institution for the first time. This is where you sell yourself as a viable banking alternative. This is your chance to offer additional services such as auto-pay, e-statement, and the all-important checking account. First impressions are critical, and a well-designed welcome letter positions you as a professional organization consumers would like to do business with.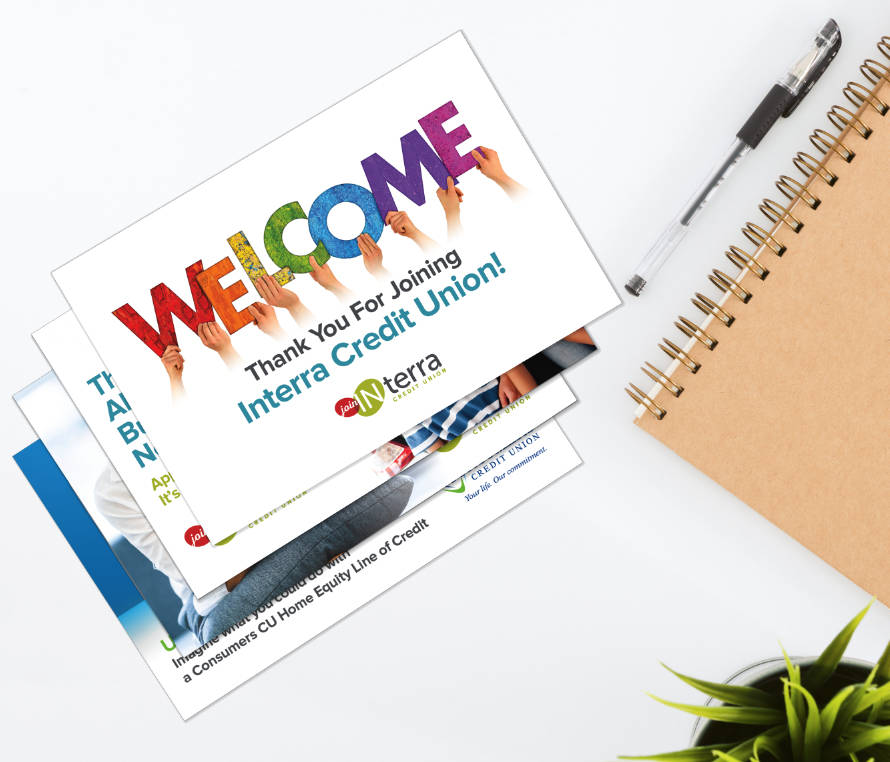 Home Equity Loan Offer
The increase in credit card debt and interest rates to historic levels have heightened the interest in Home Equity Loans. On the contrary, HELOC rates are at historic lows. We utilize credit bureau data to identify key prospects as well as new auto loan customers that fit this target segment. Sending a home equity loan offer to these customers can be a good second interaction with a new customer.
Checking Account Offer
This is the key to customer longevity. The analysis portion of our program identifies the key areas within your charter footprint that will yield the highest response rate to a checking offer. These consumers are what we refer to as your "Franchise" division. Now more than ever, the value of a checking account has never been greater based on the tremendous growth of electronic transactions. This product has been the foundation of our business for the past 20 years.
Online Bill-Pay/Autopay
We all know the value of both of these products. The key is to segment your customer base so only those who currently don't have these products are targeted. Improving collections and retention are invaluable in maintaining a growing and profitable auto loan portfolio.
Next Auto Loan Offer
Once the analysis portion of our program is completed, we've identified the key trends that will allow us to estimate the timing for this type of offer. That data combined with trigger data purchased from credit bureaus will allow us to strategically target current auto loan customers for their next purchase. Inexpensive statement letters are a great tool to support the retention of your auto loan customers.
Email Targeting Offers
This is a very cost-effective way to communicate with your customers. As with all the offers detailed, the goal is to develop the most cost-effective vehicle to deliver your message. Emails do just that. The ability to drive them to your website or a landing page to open an account electronically is critical these days. Consumers expect that given the huge move we've seen recently to acceptance of making purchases electronically.
To learn more, schedule a meeting with Stellar's Founding Partner, George Monnier.